Decorating any space is a thrilling task. Many find that interior decorating is a great way to unwind while expressing their artistic side.
One of the main parts of the home that needs design attention is the fireplace mantel. This is often the first thing you notice when you enter a room. But the art of designing fireplace mantels is tricky. Most people tend to just stack random knick-knacks on top then let the items collect dust.
Like any other design project, fireplace mantels are in need of a thoughtful plan. You will need to consider balance, proportion, and a color palette. So, here's how you can create a jaw-dropping display with these tips to spice up your fireplace.
##Plan It Out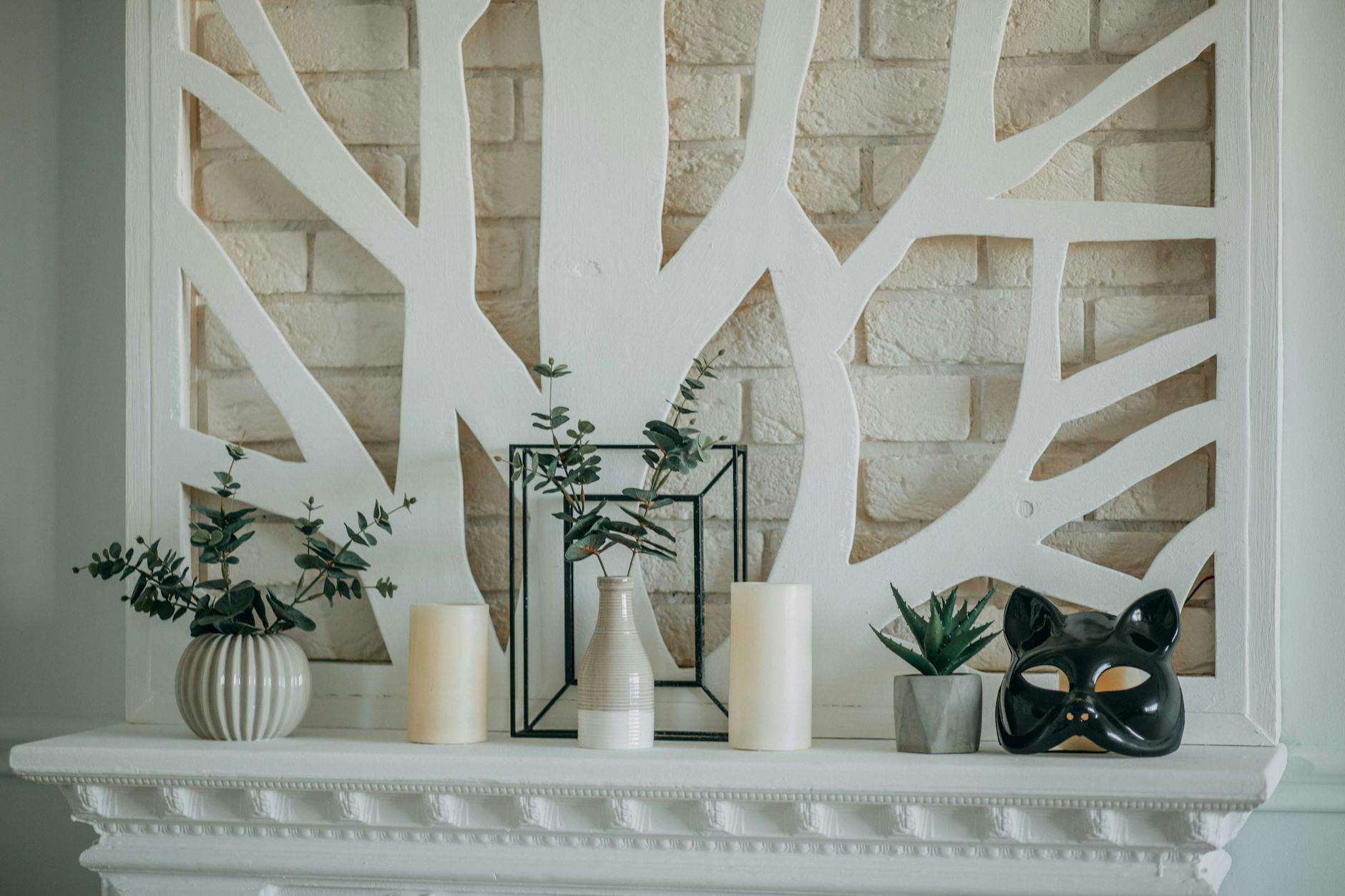 Plan out your design (Image Source: Pexels)
The first step in designing an awesome space is to sit down and make a plan. Creating a plan of action helps you to structure your ideas and serves you well when you purchase the materials you need.
Ask yourself questions such as: What type of reaction are you hoping to get? What is your personal style? What is your budget?
Consult a friend, a website, or your family about what they think works best with the design and space you already have.
You can also consult professionals at Eden Oaks Designer Woodware for help in Eden Oaks, Colorado Springs.
Shapes, Heights, and Sizes
Layer It Up
The biggest mistake you can make is to neatly line all the things up on your fireplace mantel. Do not be afraid to include various heights in the mix. Place them at the back of each other to create a sense of depth
Play Up the Texture
Avoid choosing items that are of the same material. This will make your fireplace mantel look dull. Instead, choose to vary things up with wood, metal, and other textured items.
Symmetrical or Asymmetrical
You have two main options when it comes to designing your fireplace mantel. You can either place the exact same items on either side for a satisfying feel or create more depth and character by placing different items on each side.
Both are acceptable options and work with any space!
Odd Numbers
The rule of odd numbers is essential to decorating. Never buy the same item in even amounts. So, if you are going to place candles, buy three or five instead of two or four. Odd numbered-elements make the space look well-designed and purposeful.
Select a Theme
Next, it is time to select the theme you want. It is best to choose one that already complements the existing space. The last thing you want to do is for your mantel to clash with the furniture!
If you are having trouble designing your fireplace mantels in Denver, contact us at Eden Oaks Designer Woodware for more information about spicing up your place.
Here are some ideas you may be interested in trying out.
Cool and Calming
This theme is best for those that need a break. A calming environment is great for people who are stressed at school or work. Select green and blue hues for your color palette. This is probably the easiest design to make.
Hang a large mirror in the middle, preferably with a neutral-colored frame. Add a medium-sized vase in front of the mirror with your favorite flowers in them. Next, add three candles on one side to amp up the relaxing mood. Try to get candles that are of different sizes each. On the other side, add a diffuser with your favorite calming oil scent.
Beside the mirror, you can choose to mount two dimmable wall lights or sconces. An orange hue would be best to create a relaxing environment.
As a unique finishing touch, add a small Bluetooth-powered speaker on the display for easy access. So, when you get home, you can kick your shoes off, lift up your feet, and play some of your favorite tracks.
Minimalist
This is a trendy design idea that many love to do, but creating a space that is minimalist is tougher than it seems.
Your color palette will be neutral here. Some natural light wood, whites, and a few blacks will tie the space together nicely. You can even add some pastel greens, pinks, and blues to the mix to create a break for the eyes.
Fewer items are needed for a minimalist look, so you cannot pile things on without a plan. Keep the wall clean by hanging a small picture frame that fits your palette. Place it off-center on your wall to make room for a tall, light green plant in a matte white vase.
Next, stack some books under the picture. Turn them the opposite way so their spines are facing the wall. The light brown color of the pages makes it easier to style. On top of the books, you can add knick-knacks. You can also include succulents or a pastel item you treasure.
For any wood items, check out our other pages at Eden Oaks Designer Woodware for more ideas!
Industrial
For this design, it would be best if your living space is already decorated this way. Your color palette should be dark. Select a mixture of light and heavy metals for this design. The industrial theme is perfect for a bachelor.
To start off, add a metal piece to the wall. A clock or a picture frame would do. If you want to be unique, you can add a treasured item such as a guitar or a vinyl player. Beside it, add dark colored sconces with metal details. Choose orange and yellow hues for lights.
Then, add metal knick-knacks of various shapes, textures, and sizes. Stack them on black-colored books for a layered look.
Traditional and Quirky
Add something unique to the space! (Image Source: Pixabay)
This is a design that your mama will definitely love. The traditional and quirky look is probably what your mom has at her place and you want your home to remind you of it. Any color palette would suit this as long as it looks right. This is truly a versatile design!
An idea for this is to hang a unique find on the wall. A fun scarf or a colorful print with bold colors would do. Add some sconces with color-changing LED lights.
Finally, add anything else you want! Just made sure to layer them well. Include items of different heights and textures to create a better space.
Choose Eden Oaks Designer Woodware Today
With these tips, you will be able to create a space you truly love and feel at home in. Make sure it coordinates with the already existing aesthetics well.
Remember, you do not have to spend a ton of money! Recycle old things in your home to make it feel coordinated. Happy designing!