Choosing the railing material on your deck or porch involves a lot of factors. The most important one might have to be the climate. The climate, especially during the colder months, can impact how resilient the material is. Make sure you choose the stair railings in Colorado that can withstand extreme temperatures and weather conditions.
Best Material for Railings in Colorado for Colder Weather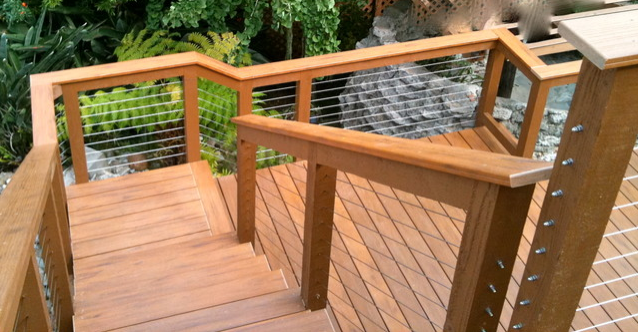 Which stair railing materials are best for cold weather? (Image Source: Houzz)
The definition of what makes a durable railing for your porch or deck varies accordingly. But if you are searching for one that can withstand extreme cold conditions, then you have come to the right place. The cold winter months carry various environmental elements such as ice and moisture that can easily damage even the most durable materials. If your choice of material for the railing, coupled with the stairway railings design, is not built for the cold, it can quickly become a safety hazard.
Below is a list of the most recommended materials for stair railings in Colorado for you to choose from:
Wood
Wood is considered as one of the best materials for railings on porches and decks. Firstly, wooden railings provide a timeless look to your outdoor space and go well with any home styles. When it comes to cold weather, wood is also very resilient. It is considered by experts as an all-climate material because it can withstand any season, even cold winter months.
Wood is able to withstand the cold season if properly sealed before winter arrives. This will ensure that water and ice are unable to seep into the crevices of the material. For this reason, it is highly recommended that you seal your wooden railing regularly and inspect it often, too. Aside from these benefits, you have the added advantage of wooden railings being versatile and having a lower price point than other materials.
Stainless Steel
Stainless steel is another good alternative if you want stair railings that can last during the colder times. This material will last a very long period and it does not react with ice or moisture. But this is possible only if you choose high quality and marine-grade stainless steel. Otherwise, the steel can rust easily when exposed to wet and cold weather conditions. This is something to consider when you live in areas with cold climates.
Glass
Glass is also another great alternative if you want to build a stair railing that can withstand the cold. It does not rust and it can block the wind, too. You can also find tempered glass railings if you are afraid of breakage. The only downside to choosing glass is that replacing it can be costly. You can opt for a drop-in installation system when installing glass railings. This will enable you to replace balusters individually rather than fixing the entire railing set (which can be very expensive).
Where to Find the Best Stair Railings in Colorado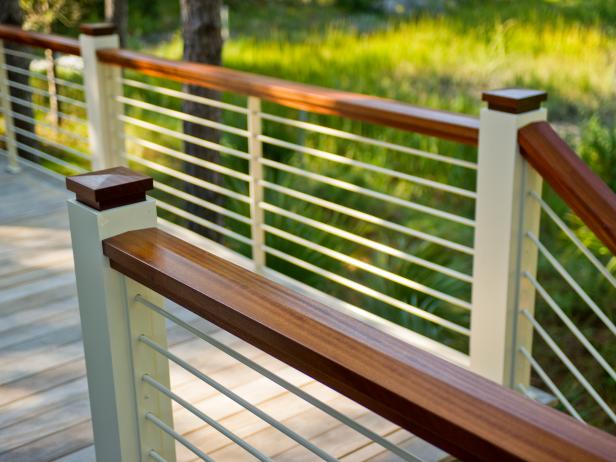 Why choose wooden stair railings? (Image Source: DIY Network)
As you can see, there are certain pros and cons that come with each option of stair railing material. But if you end up choosing wooden stair railings in Colorado, you can rest assured that it will last for a long time (with proper care and maintenance). If you are thinking of building one for your porch or deck, you can check out the options available at Eden Oaks here.
We do not just install stair railings for your outdoor space–we take it to the next level with our custom designs! We can provide designs for residential and commercial properties. You can visit our gallery to see the work that we have done for previous clients. For questions, you may call us at (719) 985-3336.